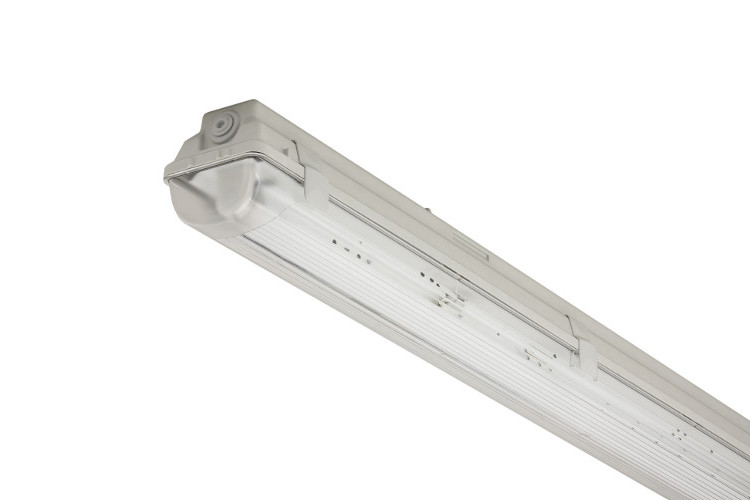 Waterproof luminary with protection IP65.
Wide use, several power variants
Available in versions:
1.) with electronic ballast EVG
2.) in combination with emergency unit (emergency KIT) (NDZ/1 hour, NDZ/3 hour)
Housing: It is made of flame retardant glass-fibre reinforced polyester (GRP), in light grey (RAL7035) colour. This material has very good temperature resistance, mechanical stability, furthermore it is a good electrical insulator, it resists the impacts of several chemicals and the impacts of weather conditions. Its stability of size and shape at changing temperatures is excellent.
Diffuser
Injection moulded polycarbonate (PC).
Main advantages: high mechanical strength and high heat and shock resistance and excellent transparency.
Diffusers is made with optically designed longitudinal, internal prisms and are UV resistant.
The gasket between the diffuser and housing is made of non-aging PU (polyurethane) foam.
As option gasket with enhanced resistance is available.
Fixing the diffuser to the body:  with highly resistant clips made of polyamide or with stainless steel clips
Gear tray (reflector): White powder coated steel sheet. As an option glossy aluminium reflector is possible.
Halls (industrial, assembling, manufacturing) – indoor and outdoor use.
Industrial areas – humid ambience.