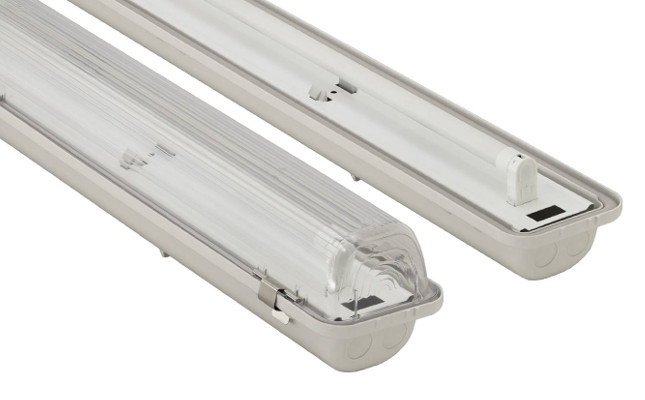 Waterproof LED luminary with protection IP65.
Chemical resistant, wide use, several power variants
Thanks to the construction principles of gasket, closing system and diffuser our waterproof LED fixtures ensure a high grade of protection (IP 65) against chemicals (NH3) dust, contamination and water permeation. In accordance with their IP grade they can be widely used to illuminate spaces with dusty, humid environment.
When using outdoors, the fittings should be protected against direct sunlight and adverse weather conditions.
Housing: It is made of flame retardant glass-fibre reinforced polyester (GPR), in light grey (RAL7035) colour. This material has very good temperature resistance, mechanical stability, furthermore it is a good electrical insulator, it resists the impacts of several chemicals and the impacts of weather conditions. Its stability of size and shape at changing temperatures is excellent.
Diffuser
Our LED-luminaires with opal diffuser offer you:
extremely high light efficiency through high light permeability, (only ~5% less light compared to a fully transparent PC diffuser)
an excellent light uniformity through well-balanced light dispersing (no shadows)
elimination of the dazzling effect (no glaring)
aesthetical appearance (no dots of the single LEDs)
keeping the usual, well known features of the diffuser such as chemical and heat resistance, mechanical features, UV-stabilization etc.
Fixing the diffuser to the body: with stainless steel clips
Gear tray (reflector): White powder coated steel sheet.
Animal Husbandry, halls (industrial, assembling, manufacturing) – indoor and outdoor use.
Industrial areas – humid ambience.